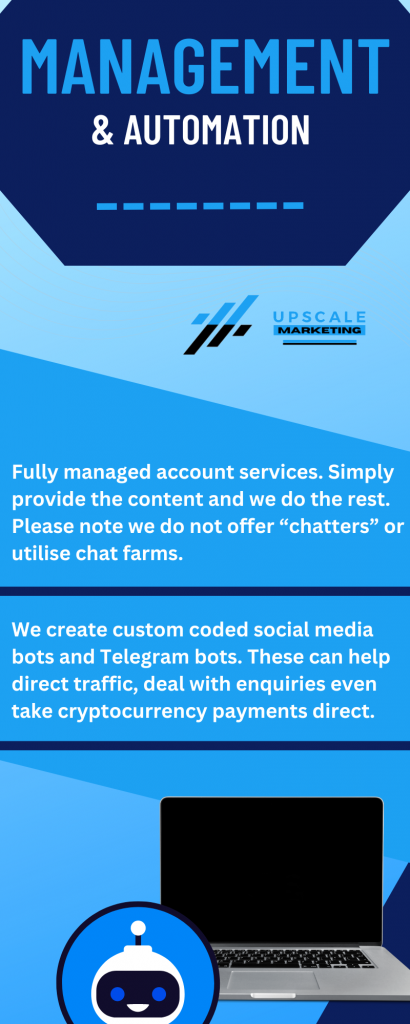 Founded in 2019 in London we are pationate about helping others achieve success. With a background in the Fitness industry having run gyms and personal training Buisness' we are perfectly positioned with the experience and technical capabilities to digitise and scale your Online Buisness growth. 
From Online Coaching Websites to E-commerce Sites we can develop solutions specific to your needs. 
We also have a tried and tested method of Social Media Marketing and promotion, to increase not just your followers but to increase the effectiveness of your sales funnel. 
We are now in Dubai and have clients globally. We are a bespoke agency and can completely work to your needs. 
For example custom telegram bots to communicate with your customers and direct them to different sales points or to integrate crypto currency payments into your Buisness. 
We offer our clients the ability to improve their Buisness, without feeling exploited. So many marketing agencies are exploitative in their and nature. This is wrong, we charge fixed fees for our services which you can choose depending on your individual needs. 
Whether you want help with promotion and marketing, to design & graphics, and even custom bot coding, website design and fully managed digital solutions. 
We have services for every individual priced fairly. So the more you succeed the MORE YOU MAKE. 
Upscale Marketing Agency 2022
We are ready to help you develop your Buisness, sustainably to connect with your audience and build month on month success. Being results driven we go beyond simple sales numbers and look at the return on your investment. With a transparent pricing structure and experienced staff, your are in good hands.  
Upscale Marketing Agency 2022
We also do company set-up and formation to help you further your Business needs in the global market.

From LLC formations in the USA and UK to FZ LLC and Holding companies we have experience in the setting up and carrying out all of the set up and administration to enable you to operate your global business.